Whistler Longboard Festival
Festival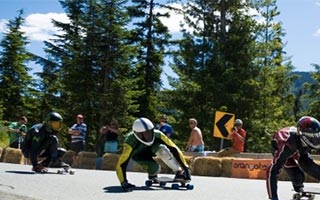 Set at the base of Blackcomb Mountain this gnarly 1.6 km road features a 1000ft vertical foot drop as riders grip and drift through seven 180 degree hairpins with 12 corners. Imagine snow boardercross meets the Formula 1 of skateboards as 4 man heats ripped down the mountain.
Web site: http://whistlerlongboard.com/
Whistler Longboard Festival coming event days
Dates: 2015 Sep 18 - 2015 Sep 20
Location: 4910 Glacier Lane , Whistler , British Columbia
Open:
Sep 18: 1pm - 5pm
Sep 19: 8am - 5pm
Sep 20: 8am - 5pm
Addmission:
Downhill Event Registration is $225 CAD for the first class entered and $25 for the second class.